Connected Services
Receive live updates of upcoming traffic jams on your route, get detailed weather summaries and forecasts, and find up-to-date information on places of interest—for wherever you are and wherever you are going. Connected Services is a subscription-based package that makes traveling much easier and more enjoyable.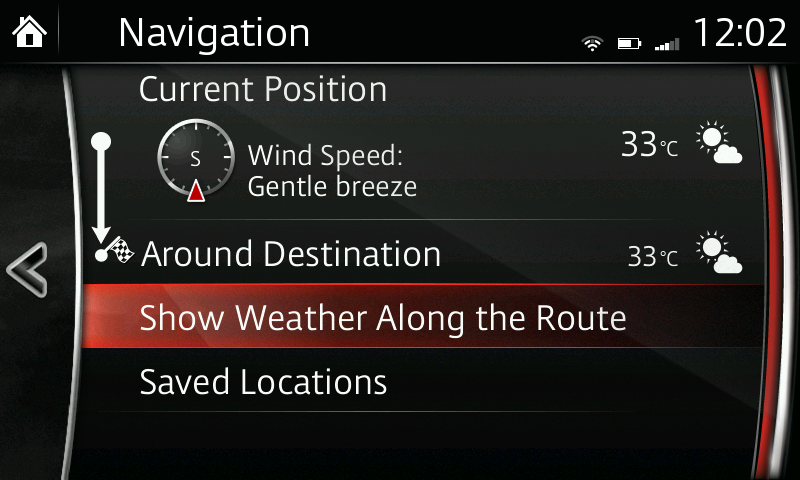 To access Connected Services, you must first register and download your Mazda Toolbox. The Mazda Toolbox is a utility designed to connect your navigation system with your computer. It enables you to view and download available updates and content that can then be conveniently uploaded to your system, including free map updates for three years. The Mazda Toolbox can also be used for creating and restoring backups, and moving or copying contents. Use your Mazda Toolbox to purchase Connected Services, download to your computer, and transfer to your vehicle's SD card.
Wi-Fi is required to use Connected Services. To get started, create a Wi-Fi hot spot with your phone (refer to phone's owner's manual for instructions), and then select it from the available networks display within the devices menu.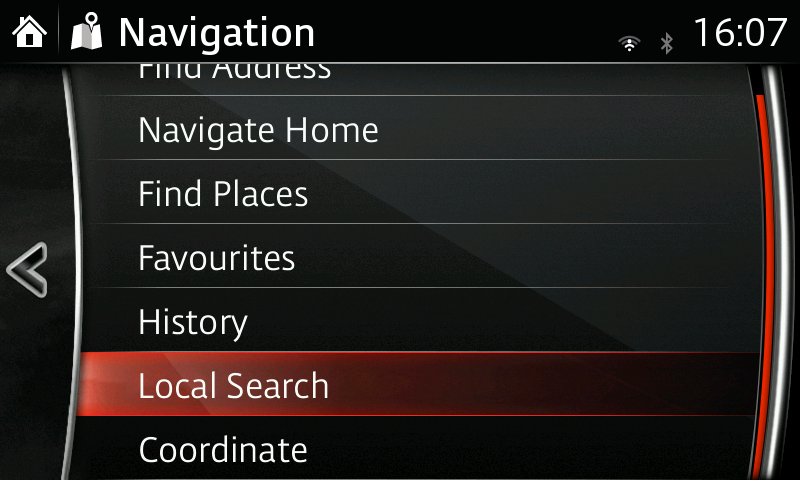 Throughout the navigation system there are options for Traffic, Weather and Local Search. If you have a Connected Services subscription, you can simply select these options to receive real-time information.
Stay connected and receive real-time information while driving with a connected services subscription.
Did you know you have a free 60 day trial period already available? Simply start using it in your vehicle and after the 60 day trial period come back and purchase it for continued use.
Local Search provides instant access to regularly updated POIs. Simply search, select and navigate to the places that are most important to you.
Live Traffic provides real time traffic information that helps you navigate and adjust your travel plans to the latest traffic conditions.
Weather forecasts keep you up to be date on the current weather and road conditions, throughout your travel and at your destination.
Buy Now:
Get a 3 years subscription for Connected Services.
85.32 USD
Get a 1 year subscription for Connected Services.
46.92 USD
Prices are established and payable either in EUR or USD. Prices available in other currencies are only indicative prices for information purposes. Prices for private person customers domiciled in the EU or Russia are inclusive of VAT. Prices for registered corporate customers domiciled in the EU or in Russia are exclusive of VAT. Prices for customers domiciled outside of the EU or Russia are exclusive of VAT. Prices always exclude local taxes, duties, custom fees and other applicable local governmental fees, if applicable customer is responsible for the payment of such applicable additional fees and duties to the relevant authorities.
Coverage:
The services are available for the following countries:
Local Search: Australia, New Zealand, Norfolk Island
Live Traffic: Australia, New Zealand
Live Weather Information: Australia, New Zealand, Norfolk Island
Compatibility Requirements for Live Traffic/Local search/Weather services:
Ensure your smartphone is equipped with Wi-Fi hotspot capabilities.
Before you connect your car via Wi-Fi, check with your mobile network operator if (i) you have the appropriate subscription agreement and (ii) the right data plan that supports the utilisation of data over tethering:

Connected Services will increase the data consumption of your smartphone. This might result in extra charges billed by your network operator, if you do not have an unlimited data plan package.
The average monthly consumption of data needed for Connected Services (based on 6 hours per day 20 days per months) is estimated at 50 MB.
We advise you not to use the Connected Services abroad unless you have the appropriate roaming data plan from your Network Operator.
The content is provided by third parties. Your navigation software provider does not make any representation regarding the suitability, accuracy, completeness or timeliness of the content, and shall not be held liable for any deficiencies thereof.